Walmart 5326 Tribute
This was posted on Facebook: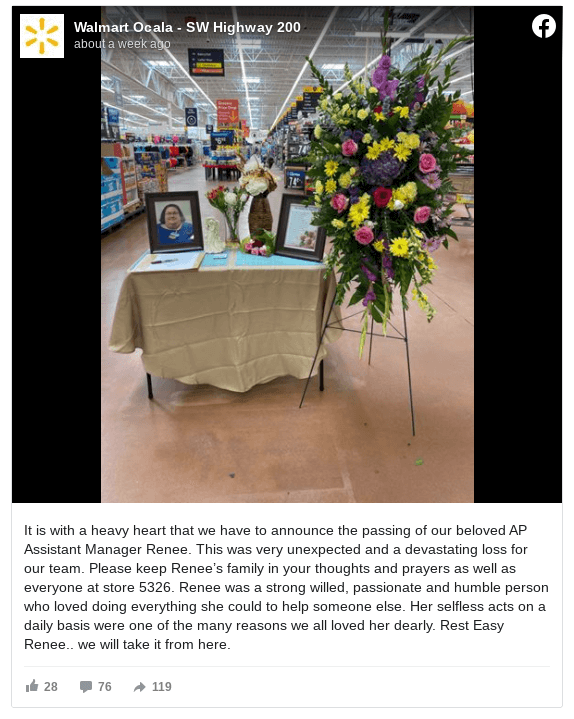 Chevy Brodersen
So sad to hear. She was one of my best friends in high school. She really was the nicest and the most caring person. The world is not going to be the same without her in it.
Amanda Nicole Compton
Hard to believe you're not here with us. Everyday is hard..my eyes are sore and my heart is hurting. I miss talking to you everyday..I am going to give everything I have in me to make sure we uphold your name in honor of inventory this year! Fly high angel.. because I now know I have the best one following me around daily.
Heather Hall
Thank you for honoring my mom in this way. It is definitely beautiful🥺💞
Karen Michaud
It's hard to believe your gone. I love you my dear friend. Thank you for laughs.
Evelyn Bonilla
To a special lady R.I.P my friend❣️🌹🙏🏽
Crystal Ross
Words can not express how much you will be missed. From the moment you joined the team, you were consistent with your follow up, concern and care for others and until the very last moment I spoke to you, you remained the same. May God keep you close to Him in heaven as He did on Earth. Praying for your family and all of us here at Store 5326. 🙏🏾♥️
Martha Lewis
Prayers for the family from #1867
Billie Isom-hargett
So sad. Sorry for your loss at store 5326!!
Casmo Griffiths
Cheer up folks its not the end as yet. Kind words are her testimony to other who know her.
Melissa Jarrell
Prayers for her family. From walmart 5296 barboursville wb
Ariel Marie
So sorry for your loss, may her family find peace and solace in knowing they're in so many hearts and thoughts and that their loved one was such a Rockstar ♡
Janet Terry
I am so sorry for your loss! I think it's a wonderful way to honor her at your store.
Paula Chikos
Prayers of Stmphony to Renee's family & her Walmart Family from 5452
Kristen Finch
I am absolutely 💔. Just over 3 weeks ago I transferred from 5326. Every couple of days Renee took time out of her hectic schedule to check in on me. She was soooo selfless. She was my mentor, my friend, my boss. In that order!! Condolences to all who suffer from this tragedy. As for 5326. I love you all SOOOOOOOOOOO much. Stay strong and stay together. Hold each other close right now and remember ALL the beautiful memories she left us with each and every one of us. That's what Renee would want!!! Ohhh, and one more thing she'd want..... Please work safe!!! Fly high Renee! 😇You've got your cousin and partner in crime back now so save me a seat ladies!!!!
MaryAnn Finnegan Roosevelt
What a beautiful tribute this is to your employe Renee.My condolences to her family and the store employees during this difficult time. Spread your wings and fly Renne, your job is done, rest in peace.
Deborah Kearce
I am so very Sorry for your loss. I pray that the Lord comfort your Team/Family at 5326 and her Family. It is so hard when we lose one of our own. It hurts so bad. Love you all. Deborah Kearce from Store 697
Tara Vazquez
Deborah Kearce she was my best assistant I ever had she gave me the skills to become management at walmart ,she believed in me and everything I did.She truly is a lost , right now I'm lost for words but her memory will ever survive in my eyes.I love you renee row RIP till we meet again
Lisa Bouldry Avery
So very sorry for your loss! Sending thoughts and prayers from #2128 Halifax, Ma.
Michael El Reyy
Aww she was my mgr in the shores rip
Michelle Deffler Perez
Thinking of you all 5326. 🙏🙏🙏
Ashley Wilson
Rip Renee she was my mgr in the shores as well she will be missed.
Vanessa Barnes
My condolences to her family and her Walmart family I pray over all of you May she Rest In Peace!
Rima Kane
I'm so sorry for your loss. My condolences to the family and loved ones ❤
Dianne Maraj
My condolences to the Walmart team and her family.
Richard A. Bray
I did not kow you, but you are in our prayers Renee as well as your family RIP! Store #0697
Jeannie Giles
So shocking. I miss you Renee and love you.
Amy Cubberley Rock
So sad to hear of Renee's passing. I met her when she found her Mom an apartment at my work. She was the nicest person you could have met. She took amazing care of her mom. May she rest easy. Hugs and prayers 🙏 for her family and friends.
Michelle Christina
From store #2547 (Monticello, NY)
Rose Hinson
Prayers to you all...sorry for your loss
Rebecca Smith
Praying.
Natasha Scott
🙏🏾🙏🏾🙏🏾
Linda Strout
RIP Renee
Valerie Stowe
My thoughts and prayers are with her family and friends.
Stephanie Elmore
Prayers are going up for you all
Emma Webb
Prayer from 2548
Darlene Tindale
Prayers for her family and friends everywhere 🙏 💔 my condolences to all of you 💔🙏😱 my dad passed away 😢💔😥 last week
Julie Hughes
💔🙏🏻💔
Lynda Ashford Luna
Sending prayers
Luigi C. Contino
My condolences to the family R. I.P.🙏🏻🙏🏻🙏🏻🙏🏻🙏🏻
Sandra Currin
Our thoughts and prayers go out to her family and friends at Walmart.🙏
Alberta Spencer
Prayers for the family and friends. May you Rest In Peace Renee.
Judy Renshaw Harden
Sorry for your loss prayers. 🙏🙏🙏🙏
Linda McCarroll Pitts
So sorry in my prayers
Janice Dickman
Was she a friend of yours Anthony. God bless u and I love u dearly.call me any time
Jackqueline Quigley
My condolences
Marisol Mantilla-Arroyo
RIP
Toni Kincel
Prayers to her family and her Walmart family 🙏 #751 Pella Iowa
Franklin Evins
Prayers from 0871
Lou Heck
Prayers from 0923🙏🏻
Lisa Marie
My deepest condolences
Melissa Bradshaw
My prayers and condolences to her friends and family